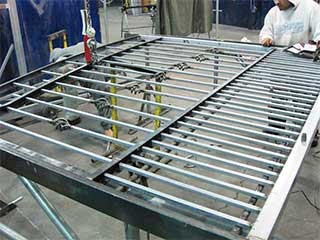 Our customers, both old and new, have found our company to be reliable and efficient when it comes to delivering all sorts of garage door repair services. It is our quest to deliver our customers the best which is why we are commited to continuous improvement, something many other companies don't say. While being well known for our garage door offering, we also offer a full range of service for gates - including repair, installation, maintenance and replacement. After all, garage doors and gates operate very similarly.
Any Type of Gate
We provide a complete range of gate repair services, and can attend both commercial and residential premises. We are experienced in handling automatic gates, swing gates, and electric gate services to name a few.
Professional Installation Services
Gates are important not only because they serve as a passage into your property but also because they secure it. This is why choosing the perfect gate to fit your property is very important - we know this can become challenging given the numerous options available on the market. Our technicians can be a valuable source of information when deciding which gate to opt for, not only will they provide you with expert insight, they'll also get your new gate installed with the professionalism you expect.
Remember, how your gate is installed will dictate its functionality so it's imperative that trustworthy professionals to do this for you - you don't want to deal with a botched installation on your hands after the event!
Safety Tests & Maintenance
Gates, just like garage doors, require regular maintenance. This will ensure that the operation of the gate is kept smooth and that problems are addressed before becoming large issues. While simple maintenance such as cleaning and lubricating helps a lot and are tasks which you can do yourself, it is advisable to have professionals perform maintenance on your gate. They're trained to identify the things you may not. We recommend quarterly maintenance appointments. During a routine visit, our technician will conduct a number of safety feature tests, balance tests, and force settings tests. These will help them to understand the condition of the door and address any problems identified. Our technicians also make it a point to impart valuable tips on how better take care of your gate so that it doesn't wear prematurely.
Complete Repair Services
Its normal for gates to sustain damage over time due to regular wear and tear or user error. We can look after all kinds of gate repair requirements - our technicians are specialists, and will be able to resolve any problems quickly. We also provide emergency services for when your gate unexpectedly breaks down and you need someone quickly. Contact our experts at Garage Door Repair Escondido today, we'll be glad to talk to you!
Give our team a call if you need help with: