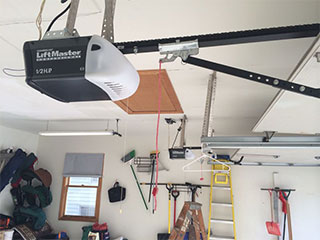 Most garages are attached to houses and, as a consequence, dirt, elements and rubbish can easily pass into your main house. This is one reason why its worth keeping your garage clean and tidy and your doors free of dirt and dust. This is also your chance to check out the panels and see if there is rust hiding under the dirt.
Improve your Door's Operation
Clean garage door parts will operate better than dirty ones. Don't forget that dirty tracks will make the life of the rollers difficult, they won't be able to move properly causing malfunction. Dirty sensors might not operate well either. Too much dust won't allow them to see objects or people in the door's path, causing a safety hazard.
How Do I Clean My Garage Door?
Cleaning the door is not a hard procedure as most parts requires the same cleaning methods as the rest of your house. Your door only needs water and liquid soap. If you own metallic garage doors, you can also apply wax once dried to protect it from the elements. You must give a bit of special attention to the cleaning and the condition of the bottom seal since it constantly comes in contact with the ground. You may additionally wish to use a stronger detergent for the garage floor in the event that you need to remove lubricant residue.
Clean the Inside!
Most people give gravity to thorough cleaning of the outside part of the door but the dust accumulated on the door opener actually comes primarily from the various objects we keep in our garages. Before you clean the door and its parts, we recommend you throw away unnecessary things you keep in your garage that might be collecting dust and have a bit of a clear out.
Don't Forget Maintenance
In addition to cleaning, don't forget to apply a bit of lubrication to the moving parts of your door from time to time – this will help to prevent rust. It is also worth checking your nuts and bolts from time for loose fixtures and tightening them as necessary. Our experts at Garage Door Repair Escondido can help out with any related question you have regarding maintaining your door – just get in touch!