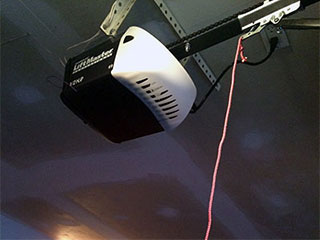 Electric door openers were invented to get over the hassle of opening such heavy doors manually. Most systems can still be opened manually in the event that the power goes or the opener breaks thanks to an emergency release cord - however, as the name suggests, this is really only to be used in the event of a real emergency. If your door has stopped opening or operating normally, there could be a problem with your opener, it is common for motors to burn out after a while. Alternatively your safety may need to be realigned. Regardless of the problem, our experts will troubleshoot all scenarios and provide you with recommended best steps.
How Openers Have Evolved
Openers have developed a lot since their early days of creation. Today, they possess sensors for the safe operation of the door and work in conjunction with remotes and keypad activation. Large manufacturers such as Genie and Liftmaster continually produce extra accessories and added features to enhance the security of garage entrances and improve convenience. If your opener is considerably old, it might be worth looking at your upgrade options – it may save you money in the long run.
When Things Go Wrong
If your opener has simply stopped responding or seems to be behaving unpredictably, it is important to get in touch with a professional quickly. Left alone, these problems can become much worse quickly. Our skilled technicians are experienced when it comes to opener motor and sensor repair and will always respond quickly if you suspect an issue with your reverse system. Your safety is the most important thing and this is determined in many ways but the safety features involved with the opener.
New Opener Installation
If it turns out you are in need of a replacement, our professionals can also look after this for you. We can help you choose the right opener for your door system, with the right horsepower, and look after all your installation needs. You can rest assured that we always test safety features thoroughly before finishing an installation. Our experts can also provide advice on how to keep your new opener in good condition for longer. Get in touch with our team at Garage Door Repair Escondido for all your opener repair and maintenance needs – we'll be happy to discuss your situation with you.
You can also count on us for:
Part Replacement & Lubrication
New Opener Remotes & Clickers
Galvanized Torsion Spring Installation
Emergency Garage Door Repairs