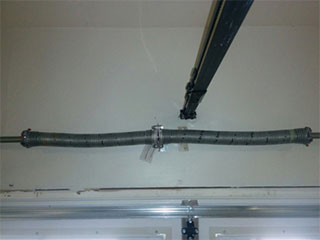 Your door relies on its springs. Your heavy-duty extension or torsion springs are what do all the heavy lifting - they bear the load of your door day in and day out. When you consider that the average household might easily use their door a thousand times every year, it's no wonder that they eventually wear out and require replacement. We provide all the services to repair and replace springs, and our expert technicians can spot all the warning signs of wear and tear.
Why Do They Wear Out?
Garage door springs are designed to be reliable and durable. They're constructed from tough materials that allow them to carry the load of a hefty door over and over again, but they will inevitably begin to fatigue and lose strength over time. If exposed to further stress or sudden impacts, springs can develop further issues.
What Happens When A Spring Fails?
When a door spring fails it immediately releases the load it's holding. This can mean the spring whips loose, which is often dangerous for anyone in the area, and as the spring drops, the door can cause damage to anything below it. We strongly advise against attempting to repair your own springs – our technicians can safely and securely remove and examine springs in need of attention.
Replacing and Maintaining Parts
Our technicians are highly experienced and can handle the replacement of garage door springs safely. They're also able to assess the condition of your existing springs, and will be able to advise if your springs are showing signs of wearing out. We can't stress enough how important it is to replace springs before they break if possible – it can be more dangerous, costly and time-consuming to deal with broken door springs.
Arranging an Appointment
If your door is working slowly or noisily, or seems unable to support its weight, your springs might be in need of attention. Contact our experts at Garage Door Repair Escondido today to arrange an appointment – we'll aim to solve your problems quickly and conveniently.
Need more? We also provide:
Garage Door Tune Up Services
Opener Sensor Replacement
Broken Garage Door Spring Replacement
Roll Up Garage Door Services