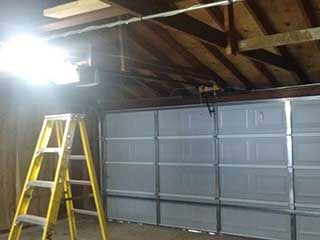 Prevention is the Way to Go
Most homeowners use their garage doors as their point of entry more than the front door. This means that the door is subject to wear and tear more than other parts of the house. As a result, when these doors break down, it is frequently unexpected and sudden. The best way to protect yourself from these annoying malfunctions is to conduct regular maintenance - this well help to ensure your door continues to serve you for a long time.
Slowing Down Wear and Tear
Our firm belief is that a simple maintenance routine can have dramatic results when it comes to your door's performance and lifespan. To make a difference, we recommend you follow a comprehensive maintenance program, specially designed to slow down wear and tear on your door. Our experts recommend a professional visit your property at least quarterly to look for signs of trouble - if your door is particularly heavy, you may want to consider more regular checks. By doing this, you protect yourself from expensive repairs and hassle in the future.
Lubrication Is Key
Many homeowners out there underestimate the importance of regularly lubricating the moving parts of a garage door unit. Your door springs, hinges, and rollers are need to well lubricated or can be subject to faster wear and tear. If parts significantly rust, this can also impact other components as it spreads. If the various parts which make your door's operation possible continue to functional optimally, your door will likely continue to function smoothly.
During a Visit
Our technicians are professionals and experts in their field. During a maintenance visit, they will focus on cleaning, lubricating, alignment and safety tests. As they age, it is important that your springs and cables are regularly checked to confirm the door is raising and lowering correctly when in operation. After all, they're responsible for a lot of weight and are under constant stress - its important that the weight distribution is correct. During a maintenance visit, our experts will also therefore check the tension of your torsion and extension springs and ensure everything is correctly adjusted.
Our experts at Garage Door Repair Escondido aim to bring the best quality of service to our clients. If you suspect it is time for a maintenance check of your door system, or wish to find out more, just give us a call. We'll help you come up with a workable plan that fits your needs.
But wait, there's more! We also offer:
Garage Door Safety Inspections
Belt Drive Garage Door Openers
Oil Tempered Torsion Springs
New Garage Door Installation