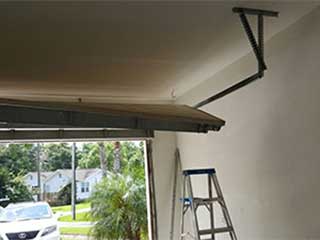 Since garage doors are used so frequently, it is common for wear and tear or malfunctions to occur now and again. Regular maintenance can help to prevent this, but if a problem does occur, our experts can help you out with it. Below are some of the common malfunctions our customers contact us for, we can help resolve any of these issues quickly and efficiently.
My Door is Jammed
This is perhaps the most common problem that people encounter with their garage doors. There are a number of internal problems that can serve as the plausible cause for your door getting jammed. For instance, when there is a broken cable, the movement of the door will be hindered. The same occurs when you are dealing with a case of broken springs. Sometimes, the bending of the door track can also jam the door. Our professional technician are well equipped to diagnose this problem and perform the repair as necessary.
Door Suddenly Stopped
If the movement of the door comes to an abrupt halt, this could be due to a malfunction in the opener or one of the safety sensors. Do not try to open the motor device and experiment with the receiver or control box inside the opener as this can cause further damage. Such tasks should be left to professionals with hands on experience of solving technical problems. It is also worth noting that an obstruction in the door's trail could also be a reason for the stoppage in the movement of the door.
Door Operating Unpredictably
This problem can be quite complicated and is one that usually requires the expertise of a technician. If your door is moving unpredictably or operating in the wrong way, this could again be related to the opener if it's motor is starting to fail. Damaged extension pulleys can also cause malfunctions. Sometimes, a glitch in the sensors forces the door to move haphazardly. Call our experts at Garage Door Repair Escondido for a comprehensive review of your system - we'll take note of any issues we identify and run them past you before undertaking repairwork.
Our team can also take care of:
Liftmaster Chain Drive Lubrication
Genie & Liftmaster Opener Repairs
Emergency Broken Spring Replacement
Overhead Door Repair & Installation